What Have I Done: Atari Edition

Music:
The Ramones - Somebody Put Something in my Drink
Yesterday we went out and collected what was left of the Atari collection we bought, so today we set up pretty much everything in one place. This is why we need to build furniture: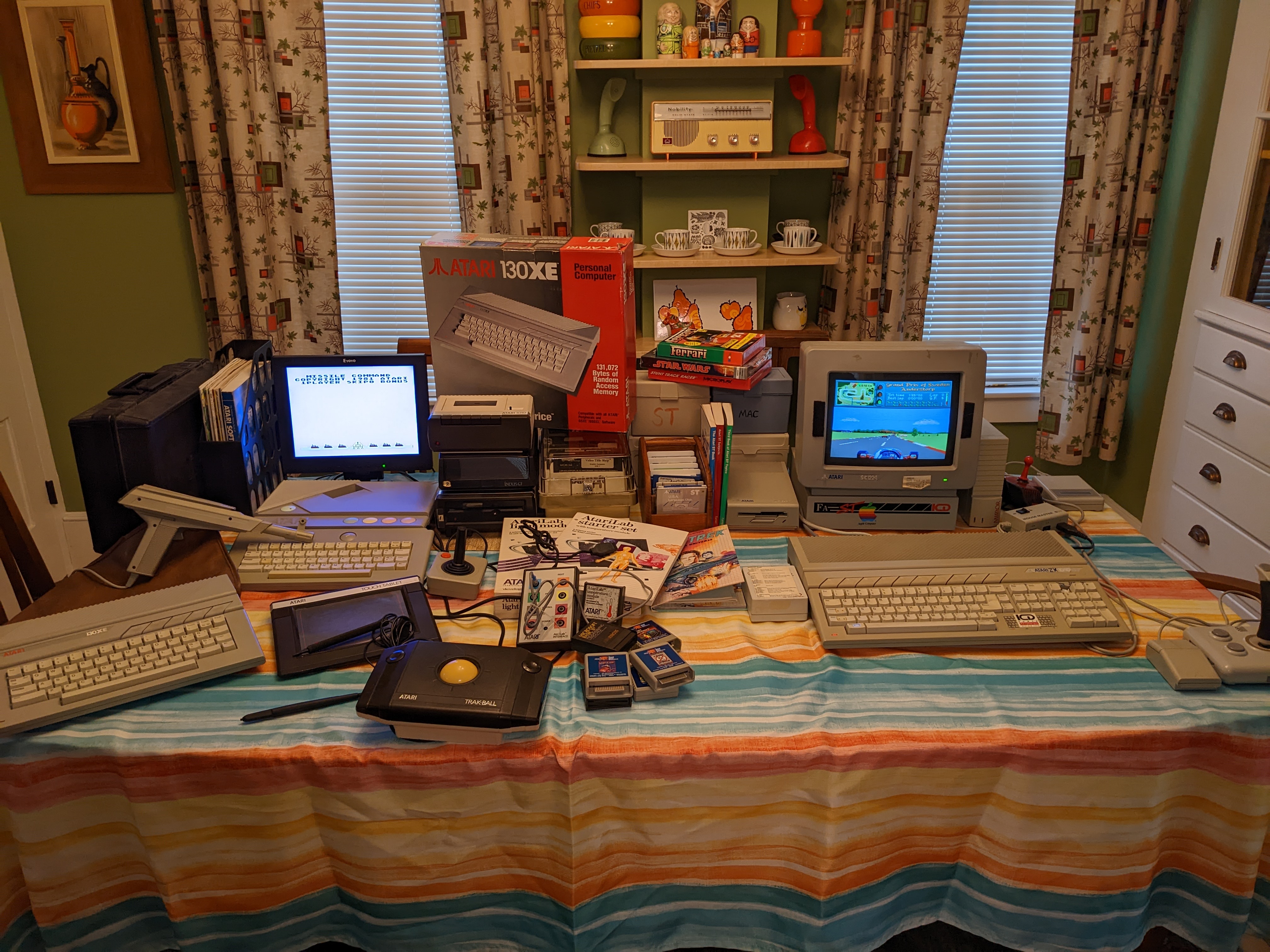 This collection comes to us from a man I was in an Atari computer club with back in the '80s, when I was an Overly-Enthusiastic 'Tween pirate. So while I don't have my personal childhood 8-bit and ST computers anymore, this is actually stuff I remember. I specifically remember the ICD enclosure with the Apple sticker stuck on it for example. The ST actually was lovingly packed in a suitcase with custom foam for the machine, Spectre GCR and external floppy. However when we got it home the foam utterly disintegrated all over our dining room, so that's all being replaced just in case we ever take it anywhere again, but I can definitely remember that case being lugged into meetups back in the day as well.
There are also lots of things I've never seen in person before, like the Atari-branded tablet, light pen or the Indus GT drive. Apparently you can retire quite comfortably off the sale of an Indus GT, at least according to eBay weirdos. I don't know, I just remember they looked real cool in magazine ads.
It should be noted that all those boxes of disks, and the other boxes of stuff not pictured, contain nearly all fully licensed commercial software and manuals. That's why I haven't posted any shots of ST demos and cracked game intros and stuff. There aren't any :-) Everything is legal and has manuals, which is great. One of the big issues I had when I was a kid is that yeah, I had tons of games, but no idea how half of them worked, not a problem for Jumpman, but big problem for SCRAMM or Silent Service or MULE, at least I never knew how to play them. While this definitely wasn't a "Gamers" computer, it's really going to be interesting to stick Natalie in front of Calamus or PageStream and show her the state of the art for 1988 design software. Spectrum 512 has already left us both stumped. I've got some re-learning to do for sure.
Natalie was super excited playing with the drawing tablet and I guess I might have to get a CRT just so we can try the light pen out too. We're also looking forward to projects with the AtariLab temperature and light modules, which just have a really interesting history.
My loose plan is to get a GoTek so as not to have to deal with physical disks as much, and a SCSI to SD that can live in that ICD enclosure (along with probably 15 Raspberry Pis!) so that everything is gainfully employed once its new home is ready. To use the Spectre GCR I'll need high resolution mode, which should be achievable with a VGA converter. Color requires a monitor to support a 15Khz refresh rate (or use of an expensive scan doubler), but monochrome should work just fine. I'm waiting eagerly for CheckMate1500Plus.com to start selling their "ultimate" retro computing monitors to actually solve that problem once and for all.
Once we get the new storage built we'll have much more room to get in and start opening stuff up on the bench and start some repairs.



Inventory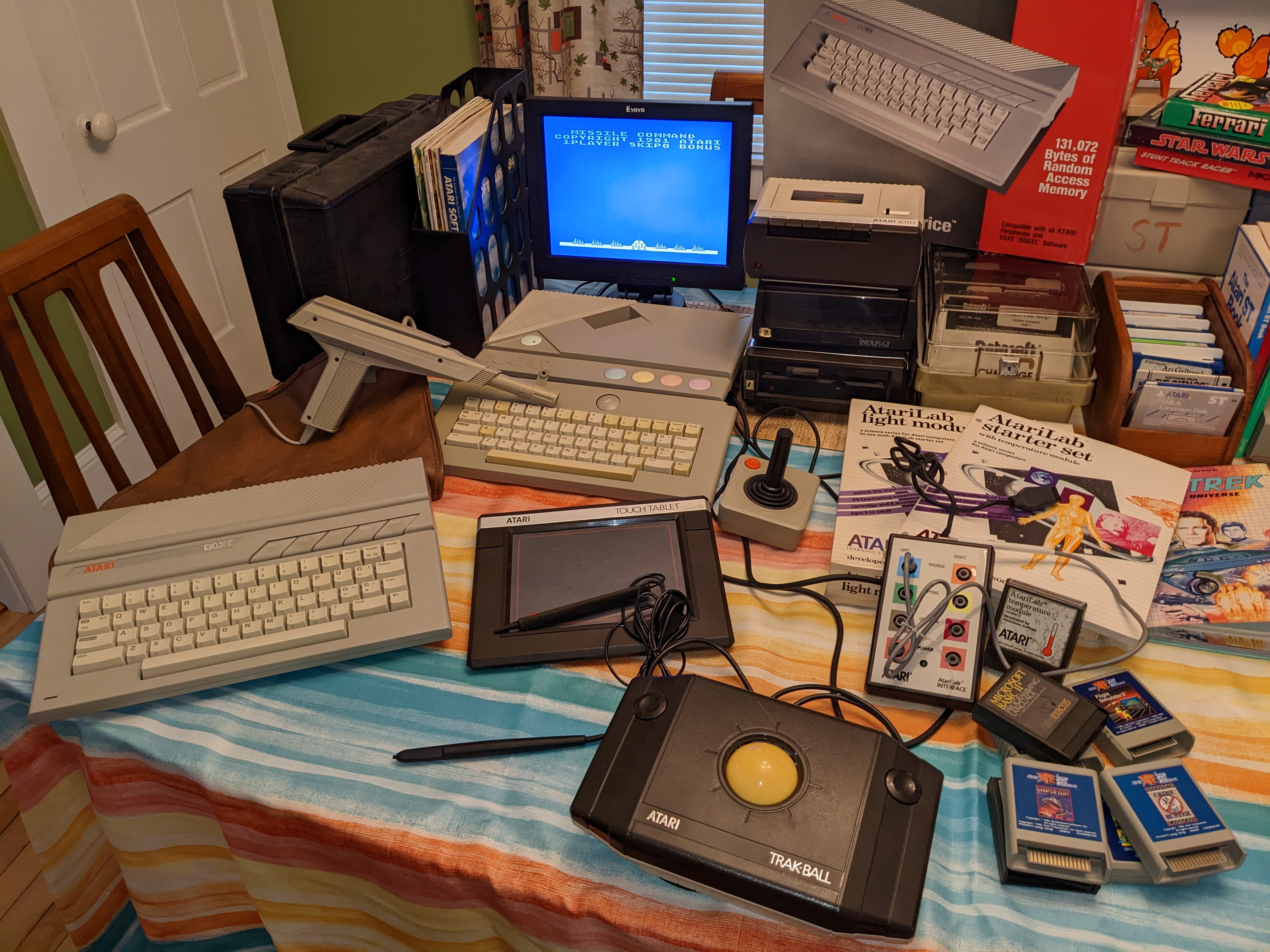 On the 8-bit side, inventory-wise, we've got:
130XE
XE Game System
XEGS Light Gun
1010 Tape Drive
1050 Disk Drive
Indus GT Disk Drive
CX80 Trackball
CX77 Touch Tablet
CX75 Light Pen
AtariLab Light Module
AtariLab Temperature Module
Of that, the XEGS seems to be totally fine, while the 130XE tests bad on a bunch of its RAM, so that will be a project. I don't know whether I'll just replace the 64x1 DIPs that are in there now or go for some over-the-top modern upgrade that might be easier to source. It's also likely got a bad keyboard membrane, but I have a spare to replace that on hand.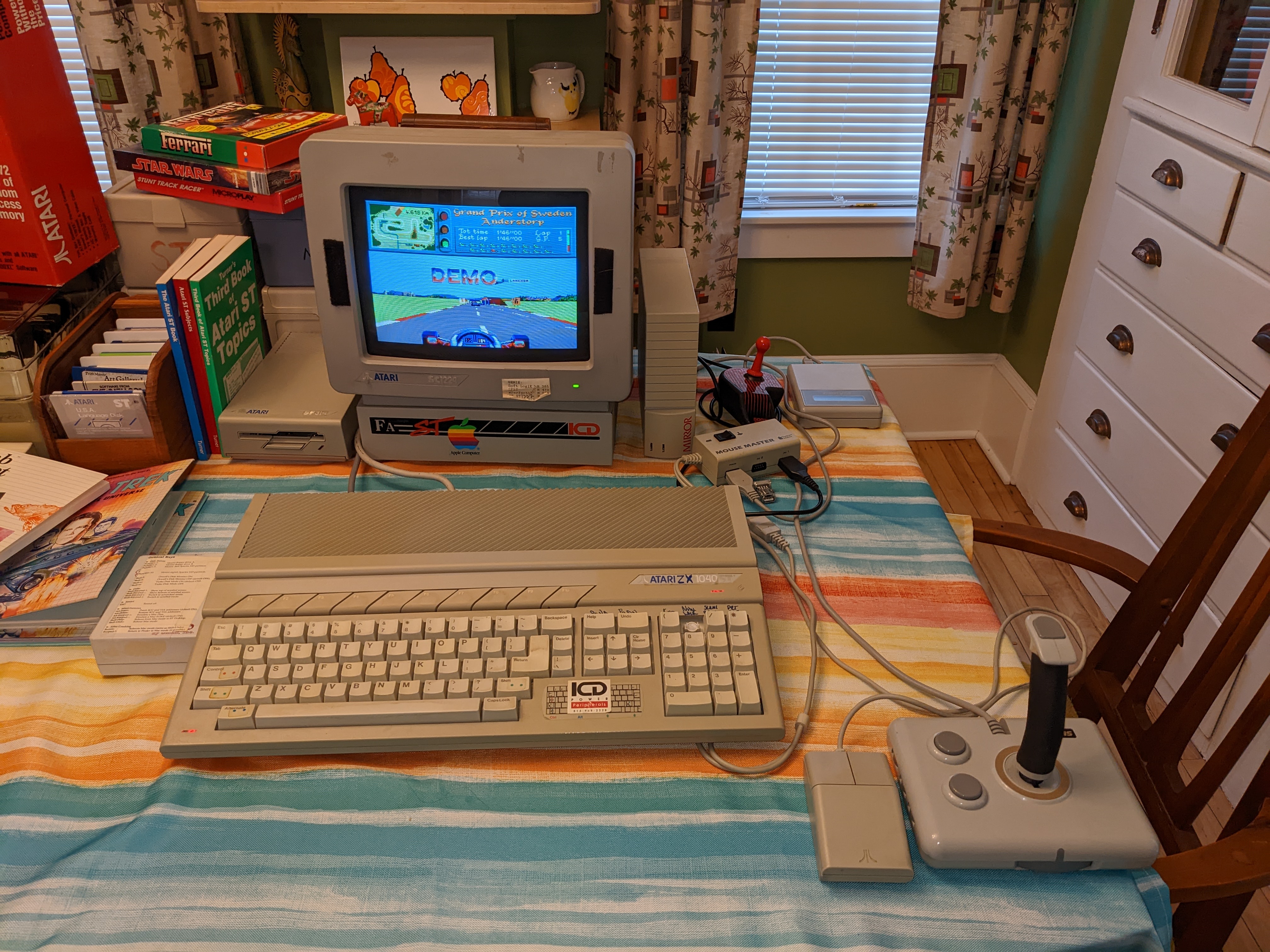 On the ST side:
Atari 1040 ST
SC1224 Color monitor
SF-314 Floppy Drive
ICD FA-ST 2x SCSI disk enclosure
Spectre GCR Mac Emulator
There's also an internal PC emulator mod that I've not tested yet
Gravis analog joystick
The external floppy at the very least has a bad power switch, and doesn't seem to do anything. There are a total of 4 SCSI drives spread between two enclosures, but none of them spun up immediately either, so some work to do there. The Atari mouse doesn't work (yet!), so we got a DE9 to USB adapter so we can use modern mice. However that Gravis stick will work as a mouse, and was crucial to getting the machine up and tested.
There's one broken key slider stem that can be seen in the picture, we have the key and got a whole bag of replacement sliders so that's handled.
The external mouse & joystick switch box kind of resolves the problem of those ports being buried under the machine.
Log in to post comments

545 reads