Fall Project Time

I recently started bringing in a truly special collection of Atari hardware. I was expecting to pick up an ST and some software, and when we arrived found not only that that ST had loads of peripherals and neat stuff to test out, but lots of 8-bit hardware and an XE Game System as well. I actually had to do this in trips just to make sure I had somewhere rational to store all of it while we inventory it and do any repairs and cleanup needed before we start trying to see what other more serious collectors might want to take in. But honestly how could I pass this up an XEGS for this room?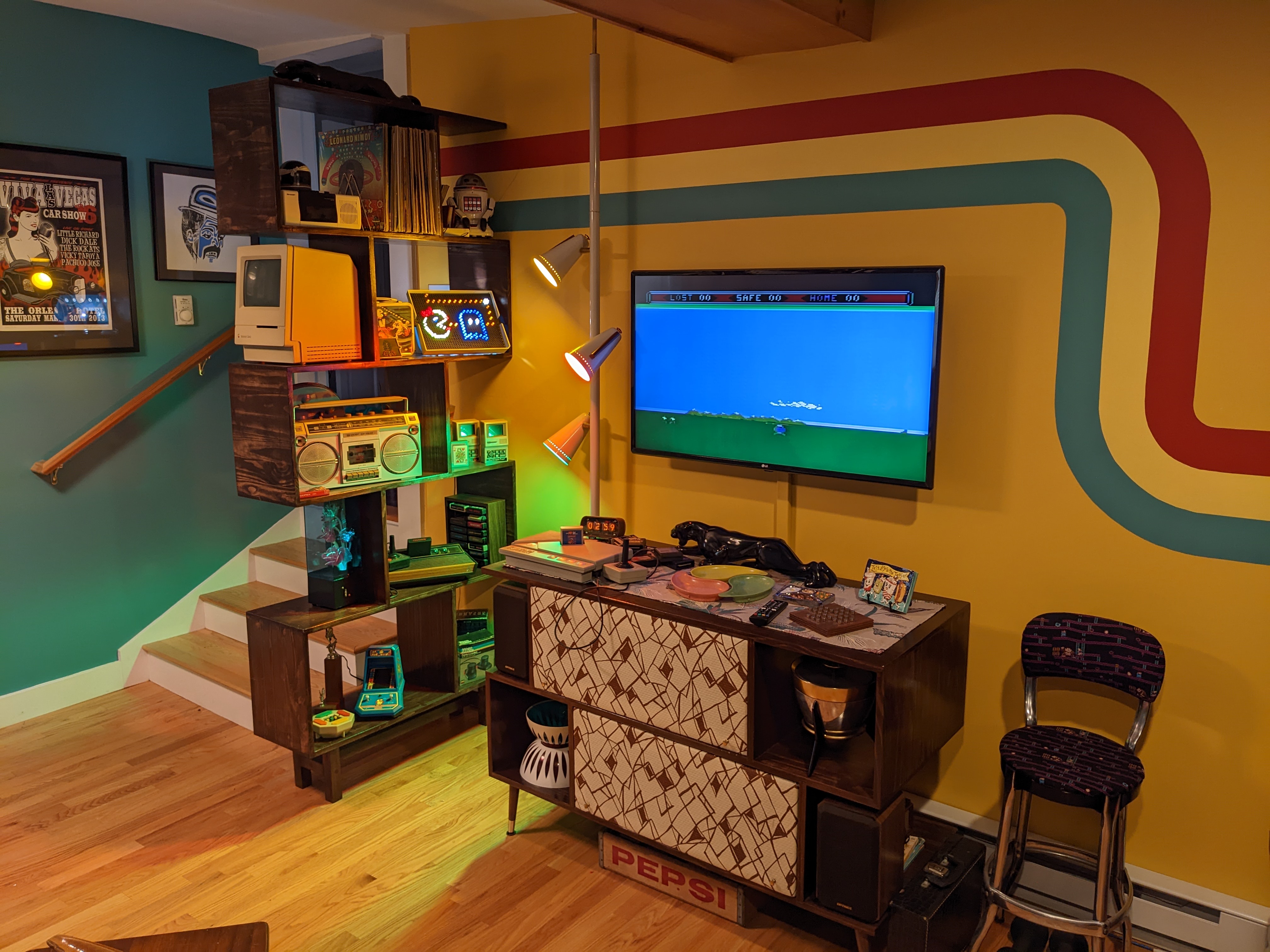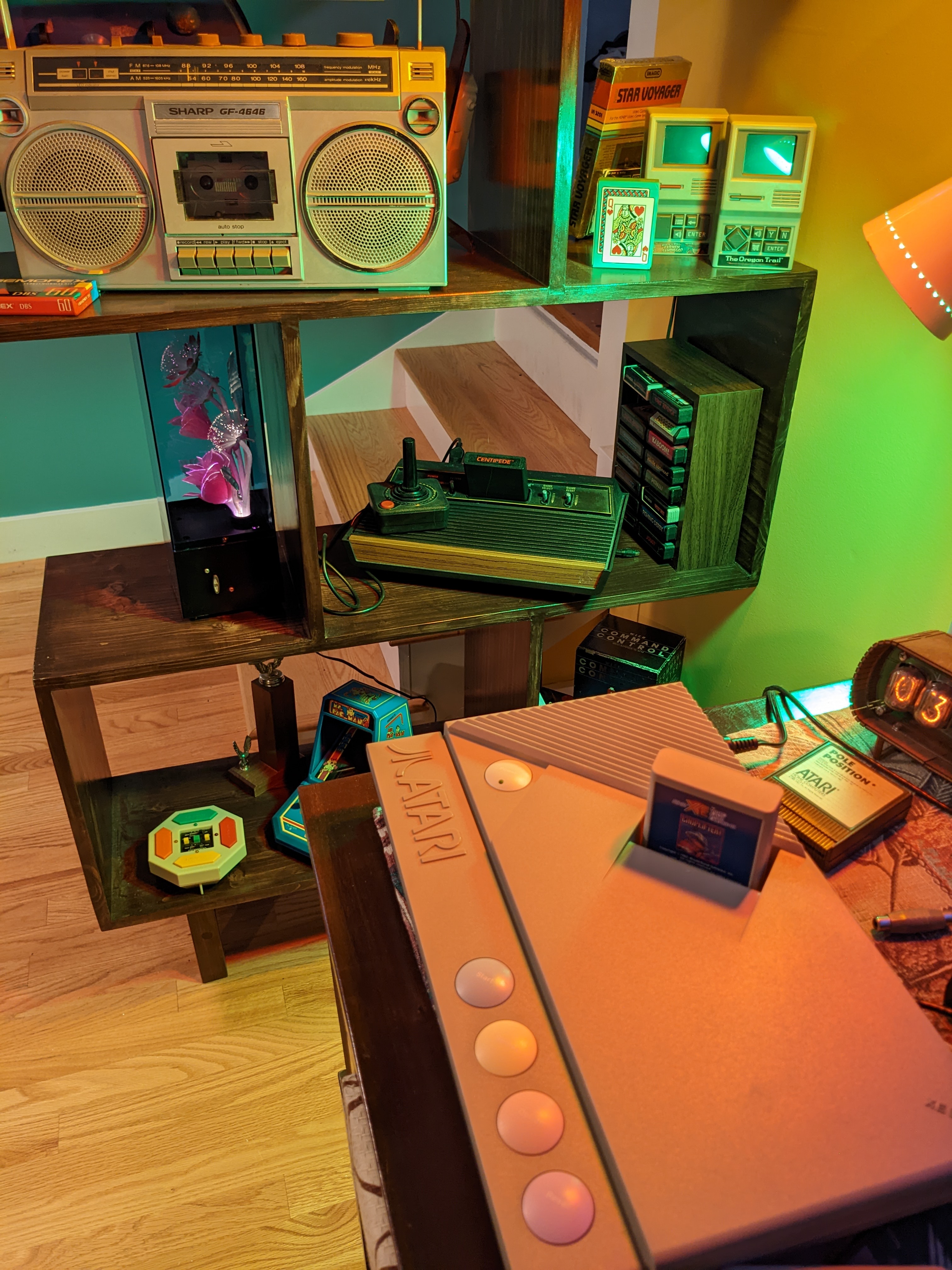 We really only need to make a stand for the 2600 that will let you see and use both systems. All the power and A/V stuff routes to that shelf so we can just fire them up in place and start playing.
But what this really spawned is a project to start building furniture in the office. Natalie has this habit of doing projects while I'm out of town on business as a surprise for when I get back, so in 2015, before the full house renovation, while I was on a trip to a datacenter for a week Natalie built this bookshelf. At the same time she uncovered the awesome tile floor in the office which had been hidden under the crappiest industrial carpeting for all these years.
However we're reached a tipping point with that thing. The shelves are 12" deep which is great for a bookshelf but not so great for cramming a bunch of computer equipment into. You can see it's way too narrow to comfortably fit that scanner for instance.
The goal is to build something deeper which can comfortably store an ST, Mac Classic, and some other small home computers as well as just bulk storage of Crap in My Office. At the moment all my network hardware, switches, firewalls and storage are buried under my main desk. Tidy and out of the way, but a hassle to get to if I need to plug new stuff in or actually work on anything. I don't want to be 70 years old crawling around on the floor to add a network drop, so we're going to get that stuff out of there. We also need just "Bulk Computer Storage" for larger systems like a Mac Pro, KayPro II. My desk and repair bench has been getting a little crowded lately, so I'm hoping a good amount of that stuff can move as well. Some of the details of what we're doing are going to be a surprise, but it'll be cool, I swear. I've told Natalie my only real goal is to have somewhere to put my laptop bag. All this stacking shit is making me itchy :-)
The ST is currently taking up exactly the surface area of a small storage cabinet, which is a little cramped for purposes of troubleshooting to say the least, though a couple of toys have trickled in since I got it, like an Atari 9-pin to USB adapter for a modern mouse and a supply of replacement key switch sliders/stems.
We'll be building more ST projects to share Real Soon Now, promise. Once we get our bearings from all the work office moves and re-shuffling these shelves. My word is as good as a Tremiel promising us all Falcons By Christmas!
So I wanted to save a quick "Before" of that space before we start tearing into the project:
That Panasonic boombox works and sounds AWESOME, but barely even picks up the FM transmitter from 10 feet away because the boombox's day-job is to hide multiple WiFi routers, a network switch and a 10 port power strip, so there's like 8 WiFi antennas right up against the tuner, not ideal. Be nice to clear that up.
Log in to post comments

805 reads