Ice Cream of Route 3

This summer while we were out driving somewhere I decided that there should be a page for all the ice cream places on NH Route 3. Route 3 runs the entire length of the state from the Canadian border north of Pittsburg to the Massachusetts border at Nashua/Tyngsborough. The road runs through all of the larger cities in the state, and lots of pretty smaller towns. There's a lot of ice cream to be had here. I remember some of these spots from when I was a little kid, usually failing to get my mom to stop. Places like King Kone in Merrimack, and the Brick House in Hooksett.
This is going to take a good deal of time, and there's not really much summer left this year, but I'll be posting them as we can get to them.
So since the idea here is to visit these local institutions which have served generations of kids in this state, of course I'm going to kick it off with the biggest and newest one.
Northeast Delta Dental Stadium, home of the New Hampshire Fisher Cats.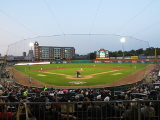 Log in to post comments

3693 reads