Kitchen Designs

As anyone who reads Natalie's site, or who has been around either of us for more than five minutes in the last six months will know, we've been in the middle of a kitchen renovation for...way, way too long now. Since I did the actual layout design (twice) Natalie asked that I write up how that process went and how we progressed from the original layout, through to what we've got now.
The original kitchen layout was less than ideal in many key ways. It was basically a galley kitchen which acted as a footpath from a hallway at one end where there was an external door, a restroom, and our living room through to the dining room and the main part of the house (office, library, bedrooms). This split the workflow of the kitchen between the "sink side" where the doors were and the "stove side". In amongst that were afterthoughts like "oh hey someone should put a fridge here" or "who wants a laundromat?". It wasn't great.
One of the biggest problems was that these two opposing doors weren't lined up. The dining room side door was a good 30" from the wall, which gave enough space for the countertop, even though the end of the counter did intrude into the door trim an inch or so. The other door however was maybe 20" or so from the wall, meaning that if you ran countertop right to the end of the room, you'd be intruding 5" or so into the door opening.
This is illustrated in this rough sketch of the beginning state and a couple of photos: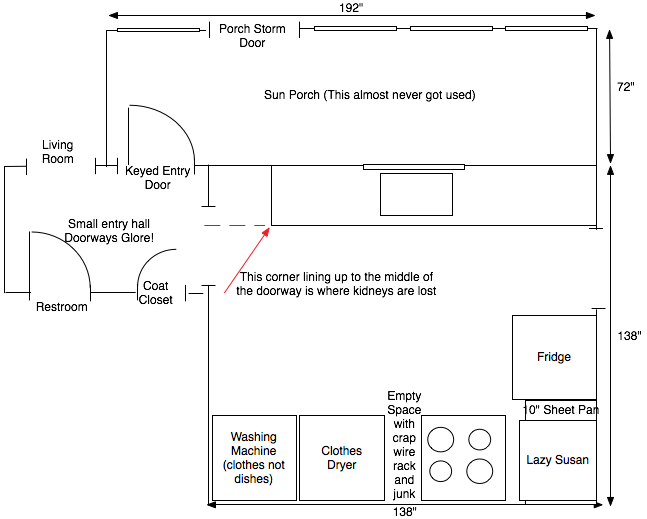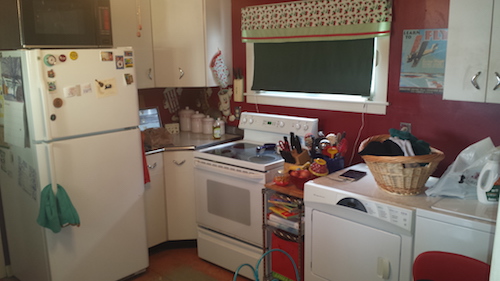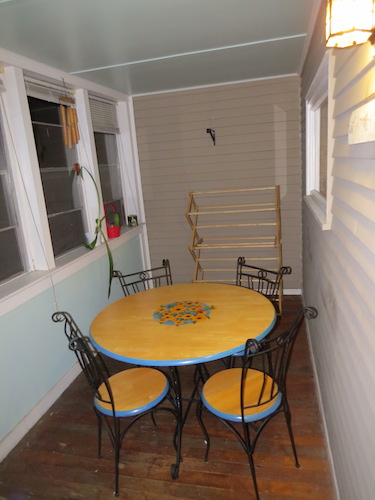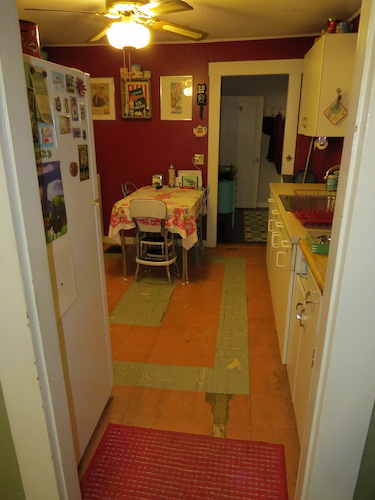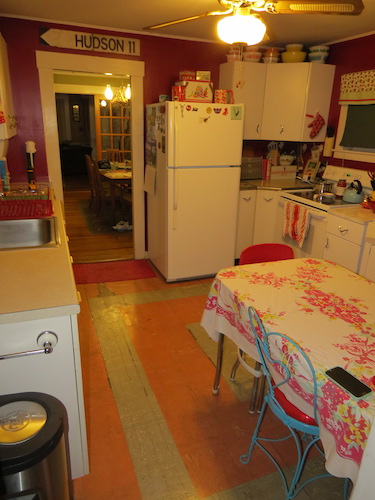 Since my imagination is limited, I originally planned our new layout based on the layout as we had it here. This means that to get to the (newly finished) breakfast and laundry area one would go out that hallway-side door, then out what used to be the exterior door into what used to be the porch to eat breakfast or wash clothes.
Thus the new design ended up looking like this, around three walls, with the left-hand side wall still being entirely blank, since there was a fridge and doorway there. We figured we'd put posters there like we had in the past:
Sink Side (top of the above image):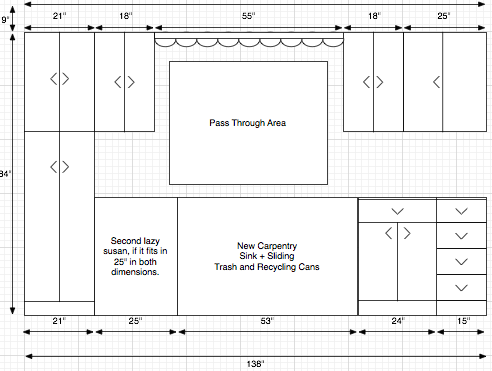 Dining Room Side: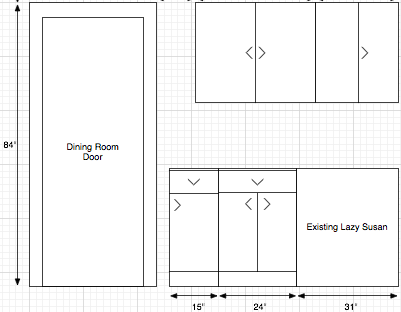 "Stove Side":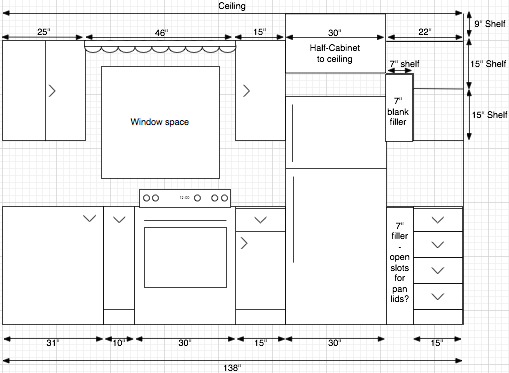 You get a sense for how conventional my thinking was, to the point of comically over-engineering to try and shoehorn as much crap as we could in the same space. The awkward doorway was rather elegantly handled by the fact that that tall-ass broom closet (21" wide full-height cabinet in the diagram) is only 15" deep, so it would give nearly two feet between the door and where that lazy susan, with its 45 degree angled door would "guide" you into the room, helpfully saving the reproductive organs of any guy who staggers through that door without really looking.
But what a mess. Take the refrigerator. We knew that any fridge we bought in the Shiny New Future was going to be much wider than the 29.5" GE Home Depot special we had, so I had to plan for that with spacers that could be removed, or custom cabinetry that could be ripped out when we bought a new one. And all the cramming in of bookshelf space wherever we could fit it. And that half-height cabinet above the fridge slammed all the way to the ceiling, ugh. It was just forced.
At some point around the fourth or fifth sink we decided on, I could no longer shoehorn it into this design. We were wavering between a fully integrated Elkay with a built in steel backsplash and countertop, and the one we ultimately got, which is a more conventional, but still huge (FIFTY FOUR INCHES FUCK YEAH!) drop-in with left and right side drainboards. This simply blew my model all to hell. I spent a few days in Omnigraffle screwing around to make space for that full-countertop monster. At a basic level the problem was that the full steel countertop sink had to line up directly to the edge of a Youngstown cabinet on both sides, since it couldn't really overhang them. Everything under that sink would then need to be custom carpentry.
I had to find a third way. So I completely changed my outlook. That doorway is annoying me and is going to cause me to lose a testicle? GET RID OF THE DOORWAY. We're taking the thing down to studs anyway. Put the fridge there, where it will be convenient and out of the way. Let's make a huge (45 inch) entryway from that breakfast area, which will also let light flood in from the massive window out there.
So what we ended up with is a far superior layout both for foot traffic flow, and for kitchen workflow. We changed the layout from a "Galley" style kitchen to a more traditional 3-sided model with entrances to the breakfast area on one side and the dining room on the other. It adds a slight zig-zag to get to the living room & restroom, but it's really, really minimal.
That plan looks more like this, with the walls in the same order, starting at what used to be the sink area.
Here's the top-down: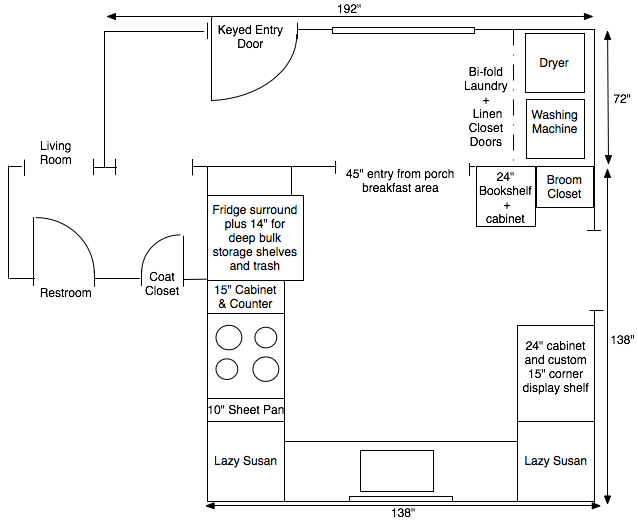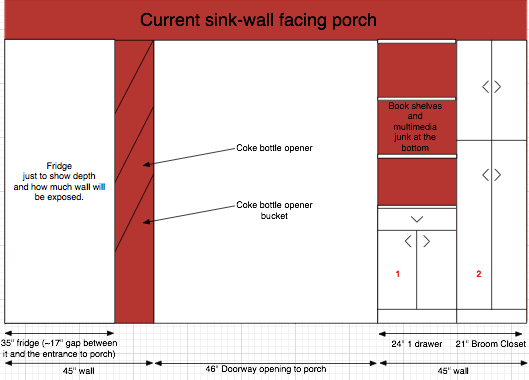 Dining-room facing: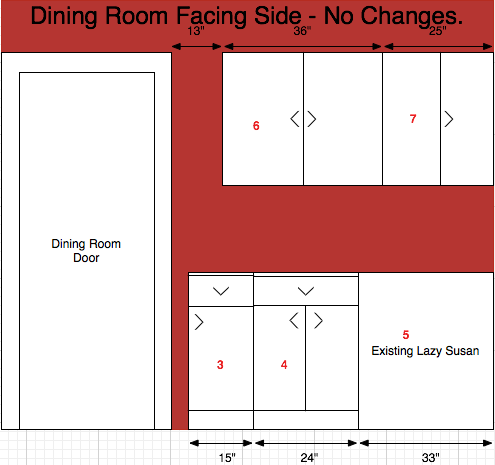 Sink wall: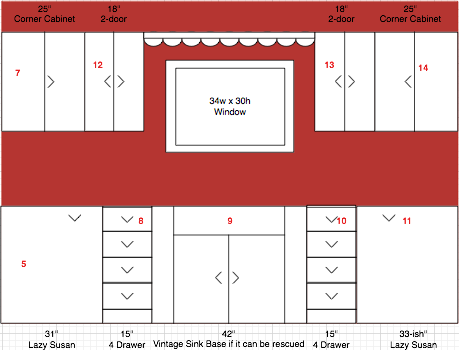 As you can see, we /did/ save the front of that sink:

Stove wall: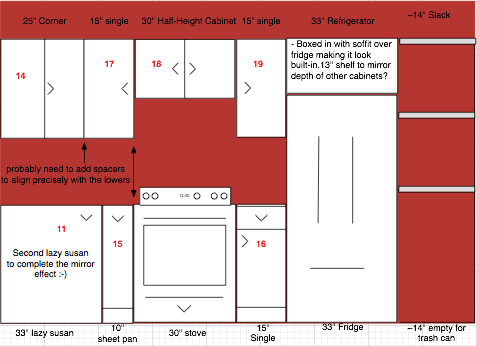 As you can see from the photos, our contractor and his subs have done a phenomenal job of executing this design. It's exactly as we envisioned it from day one, and we couldn't be happier with their work. Stay tuned for the "Complete" complete photos which I'm sure will be coming shortly on Natalie's site.
Throughout this process Natalie and I have had slightly different goals. She wants the Ultimate Vintage Kitchen, which, I think we can all agree on, has been achieved. I wanted to see how close I could get to having a professional quality and ergonomically correct and functional space. I think we've ultimately achieved that as well with an industrial quality sink and faucet fixture, but which fit perfectly into the retro aesthetic we wanted. It just took a mental break on my part to force the pieces together.
If anyone needs them, I'll update when I've posted the set of Omnigraffle stencils I whacked up to fit all this stuff together. They are proportionally correct to each other, and there are some in the stencils which didn't ultimately make it into the room, since they are "cabinets we own", but we just couldn't jam any more crap in there :-) If anyone can figure out a good way to represent these crazy corner cabinets and lazy susans in 2D I would very much appreciate your input. It's not like I live with a goddamn graphic designer or anything.
Log in to post comments

4711 reads