Ice Cream of Route 3 - Fisher Cats Game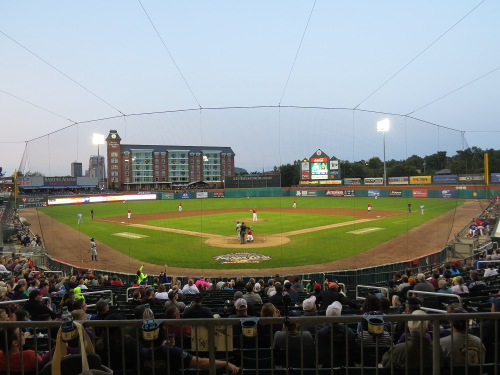 As my first in a series of posts about ice cream places on NH Route 3, I'm deciding to count stuff which really wouldn't be super obvious, as well as all the multi-generational institutions we all know. Located a block off of Elm St in Manchester, Northeast Delta Dental Stadium counts, because I said it did.
We've been going to sport-thing games since last fall, when we decided we needed a release valve on the wall-to-wall presidential election nonsense and started going to Manchester Monarchs games. Since that nonsense continued straight past the election, we've been going to more and more games, including three Fisher Cats games this summer. The Fisher Cats finished up their season this weekend, so I wanted to make sure and head out there and get some ice cream and put it on the list.
The stadium serves Hood ice cream, soft-serve only from what we've seen, as well as novelties like ice cream sandwiches. This week Natalie and I each got a hot fudge sundae, vanilla & chocolate twist, with everything they'll put on a sundae, which boils down to whipped cream, jimmies and a cherry, I guess it's just easier for them not to even try to have a walnut in the building than to deal with the inevitable nut allergies.
You can get these in mini-helmets, of course. We got a regular cup this time because we did the helmet thing earlier in the season.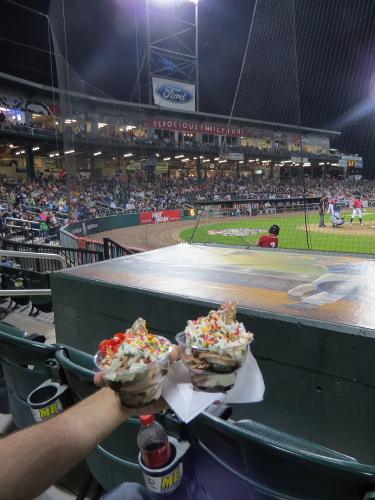 Log in to post comments

3927 reads