TV History Time

xrayspx
-
Tue, 11/24/2020 - 12:37am
Music:
Mojo Nixon & Jello Biafra - Nostalgia For an Age That Never Existed
So this is super interesting. You know, interesting to me anyway.
I'm compiling another week of vintage TV shows, this time from 1963. It's remarkable how easy it is to get the exact episode of many of these even compared to getting episodes from 1980's shows. I'm making a playlist for each night and mixing in 1963 commercials throughout, should be fun. But first, see if you can spot why this week's playlist may present a particular challenge: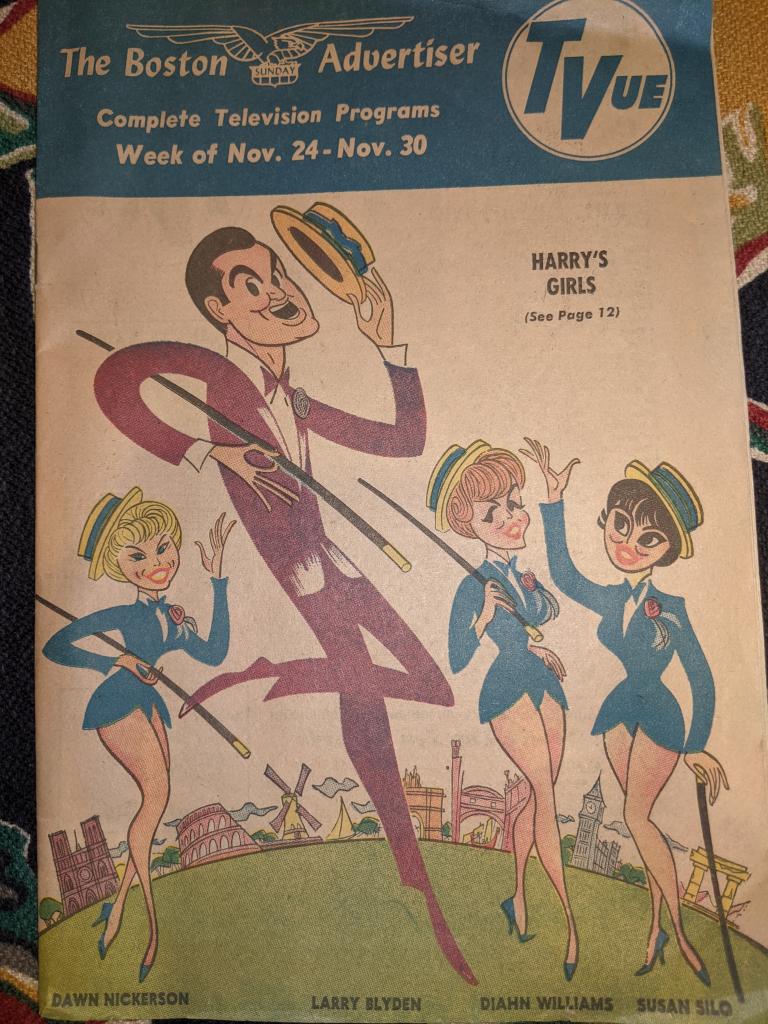 As I started out on Sunday night (TVue is boldly not adhering to the TVGuide dictate that Saturday is the first day of the week), I found that while I could find the episode of whatever show I was looking for, the air date listed in IMDB was for like, several months in the future, in some cases as far as March 1964. What the balls IMDB. So it made it kind of tricky to pin down given episodes.
After the 3rd or so show with this happening, I kind of noticed a pattern. Sunday, November 24, 1963 just doesn't seem to exist. IMDB consistently showed "Nov. 17" and then the next episode aired was 'Dec. 1".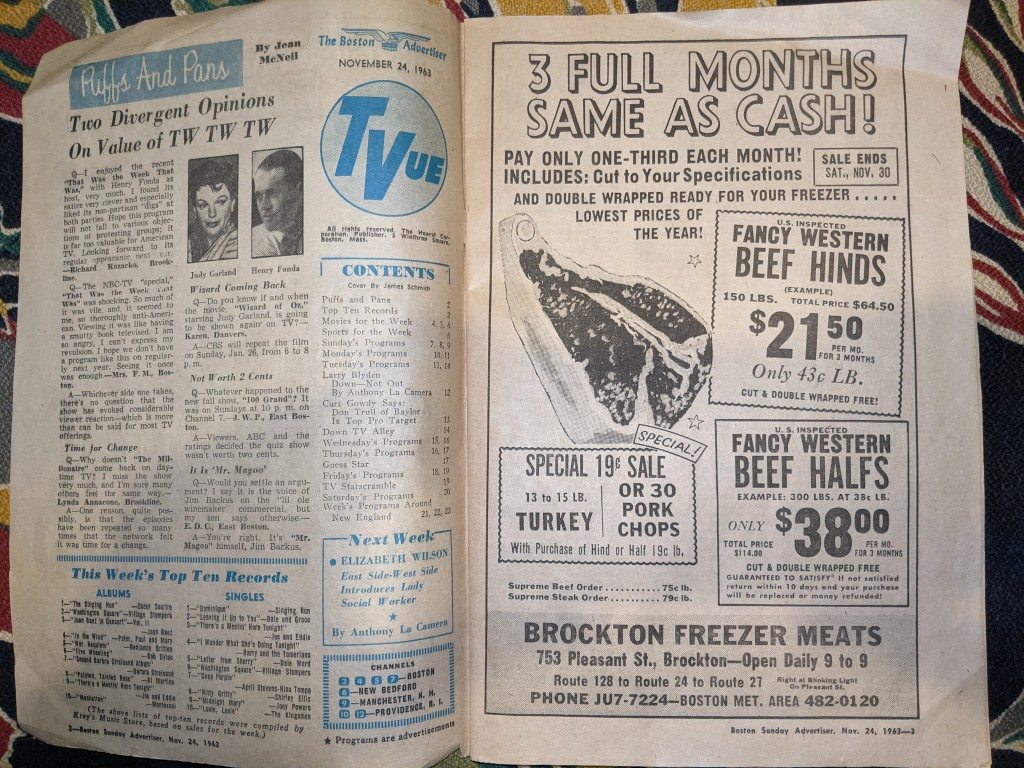 So seriously what the he... Oh. Right. Yikes.
My TVue, from the Boston Advertiser, is listing the TV schedule for the week after the Kennedy assassination. I am building playlists to recreate a week of TV which ... ... never existed.
For the record, this being the 24th, we chose Mister Ed, My Favorite Martian and The Judy Garland Show. I got all the right episodes on those, but I'd have liked to have seen the Ed Sullivan Show, but since that's live I imagine it was just canceled altogether. It was supposed to have a Stiller and Meara sketch, so I just picked one of those sketches from another Ed Sullivan. Growing up with Seinfeld it's just so easy to see "SERENITY NOW!", or "I've got a lot of problems with you people!". Genius.
As in my previous week of vintage TV, if I can't find a thing, I'll go for the nearest I can get. So for instance What's My Line on Sunday, Nov. 24 Instead I opted for the December 1 episode with Colonel Sanders. I don't know what was scheduled for that episode, or indeed if it was ever actually shot.
In addition to the JFK assassination horror, one thing that bums me out about this week is that I don't seem to be able to find any episodes of Grindl with Imogene Coca. I really want to see Aunt Edna, but young ('er, she was still in her '50s).
So here's to building a playlist for a TV Guide week that never happened. Obviously this is going to be oddly similar to 9/11/2001, and ... that's about it really. I can't really think of any other week where the machine of commerce would have simply ground to a halt entirely.
Log in to post comments

978 reads